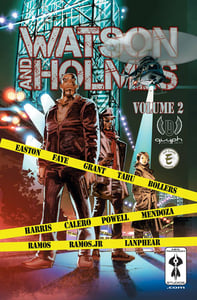 $

20.00 - On Sale
The second volume of the 2 time Eisner nominated and 4 time Glyph Award winner delivers stories of the deductive duo from several talented voices. First, critically acclaimed historical fiction author Lyndsay Faye
("Dust and Shadow", "Gods of Gotham", Seven for A Secret" and "Jane Steel") reinterprets the classic tale "The Solitary Cyclist" and brings to life a New York on the legendary character of Irene Adler. Stories illustrated by Eli Powell and Eisner nominated and Glyph Award Winning artist N. Steven Harris.
Eisner-nominated writer Brandon Easton ("Agent Carter", "Andre The Giant") pens a compelling mystery thriller, Mr. and Mrs. Gemini -the murder of a politician's wife.
Finally, "2 Guns", Steven Grant with Hannibal Tabu ("Aspen Sourcebook", "New Money") send the titular team on a road trip to repay a debt of friendship. These stories continue propelling this interpretation of Sherlock Holmes and John Watson in bold new directions.